Discovering Relationship, the Institute's initial program, celebrates our deep inter-connectedness with one another. This program is for individuals, couples and groups. It focuses on our relationships with friends, lovers, family, and colleagues - as well as with ourselves and the world around us. People are guided through a range of activities to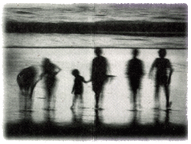 explore and enhance all of these relationships.
This program is conducted in an intimate living room setting and is led by caring, gentle, and highly-trained facilitators . We delve into challenging and sensitive issues in a gentle, non-confrontational way. This helps us to examine the core ways of being that shape our lives. The weekend enables us to discover new possibilities for our joyful and creative self to unfold.
"More than anything else, Discovering Relationship helped me to forge a new relationship with myself. I'm no longer encumbered by my past. And I've created a balance in my life that I never felt was possible." - Lisa L.
People emerging from the workshop often find themselves able to communicate more openly. People also discover a newfound balance among the areas of work, play, family, community and inspiration. And a new enthusiasm and sense of purpose in their lives. We do all of this in an environment of respect, compassion and love. This enables us to heal and grow from the inside out. To get started, register for Discovering Relationship by clicking on the Register link on the menu to the left. After completing Part I of the Registration Form and speaking with a workshop facilitator, please complete the "Intentions" form by clicking on Intentions on the menu to the left.
" SOLI has tremendous love and understanding of human suffering, and it was very healing and inspirational to experience the compassionate and skillful counseling this weekend. What a different world it would be if everyone would take this workshop. I'd like to do it again with my family someday. I am extremely grateful." - Suzanne G.